(Skip to the end for the conclusion on how this has affected my website, or continue reading for the backstory).
For as long as I can remember, I've been almost consistently engaged in some form of education or mentorship. Going back to my grandparents, and potentially great-grandparents, my family on both sides has all been teachers, professors, and even a headmaster, so perhaps it's something in my blood. I started off teaching in university as a TA (and teaching at least one module outright where the lecturer couldn't be bothered). Later, I taught part-time in a pretty rough school (which was quite exhausting) and even later at a much fancier private school (which wasn't as exhausting, but much less fulfilling) and finally I went into tutoring and also ran a related company. I wound this business up when covid started.
Over the years I found that, naturally, the smaller the class, the more disproportional impact you can have when teaching. I also found that that personal impact goes up exponentially not when I teach directly, but zoom out and find out what it is the student actually needs (especially adult students), and help them unblock those problems for themselves. As the proverb goes,
"Give a man a fish, and you feed him for a day. Teach a man to fish, and you feed him for a lifetime."
There's also a law of diminishing returns at play here. By far the biggest impact you can have when guiding someone to reach their goals (academic or otherwise) comes at the very start. This immediate impact has gotten bigger and bigger over time as I've learned more and more myself. Sometimes it's a case of simply reorienting a person, and sending them on their way, rather than holding their hand throughout their whole journey.
This is how I got into mentoring. I focused mainly on supporting budding entrepreneurs and developers from underpriviledged groups, mainly organically through real-life communities, but also through platforms like Underdog Devs, ADPList, Muslamic Makers and a handful of others. If you do this for free (which I was), you can only really do on the side, with a limited amount of time. I wasn't very interested in helping people who could actually afford paying me for my time, paradoxically enough...
I decided recently that there ought to be an optimal middle ground that maximises impact. 1:1 mentoring just doesn't scale, and large workshop series aren't effective. I wanted to test a pipeline of smaller cohorts and mix peer-based support with standard coaching. I have friends who I've worked with before who are willing to help with this, and I think I can set up a system that would be very, very cheap and economically accessible to the people I care about helping.
Anyway, I've started planning a funnel, and building a landing page. Of course, any landing page worth its salt ought to have social proof. So I took to LinkedIn. I never post to LinkedIn (in fact, this might actually have been my very first post in the ~15 years I've been on there). I found a great tool for collecting testimonials in my toolbox called Famewall, set up the form/page, and asked my LinkedIn network to leave me testimonials.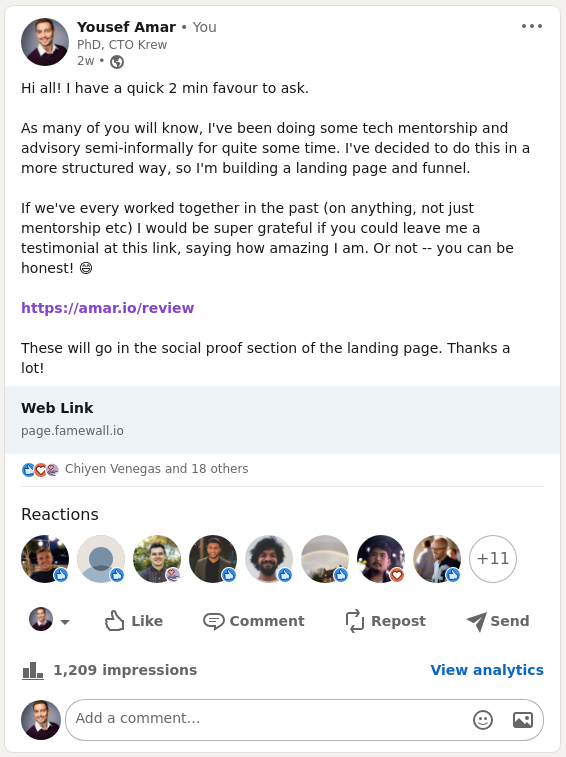 There were a handful of people that I thought would probably respond, but I was surprised that instead other people I completely hadn't expected were responding. In some cases, people that I genuinely didn't remember, and in other cases people where I didn't realise just how much of an impact I had on them. This was definitely an enlightening experience!
I immediately hit the free tier limit of Famewall and had to upgrade to a premium tier to access newer testimonials that were rolling in. It's not cheap, and I'm only using a tiny fraction of the features, but the founder is a fellow indie hacker building it as a solo project and doing a great job, and we chatted a bit, so I figured I should support him.
I cancelled my subscription a few days later when I got around to re-implementing the part that I needed on my own site. That's why this post is under the Website project; the review link (https://amar.io/review) now redirects to a bog standard form for capturing testimonials (with a nice Lottie success animation at the end, similar to Famewall) and in the back end it simply writes the data to disk, and notifies me that there's a new testimonial to review. If it's ok, I tweak the testimonial JSON and trigger an eleventy rebuild (this is a static site). In the future, I might delegate this task to Sentinel!
The testimonials then show up on this page, or any other page onto which I include testimonials.njk (like the future mentoring landing page). For the layout, I use a library called Colcade which is a lighter alternative to Masonry recommended to me by ChatGPT when I asked for alternatives, after Masonry was giving me some grief. It works beautifully!